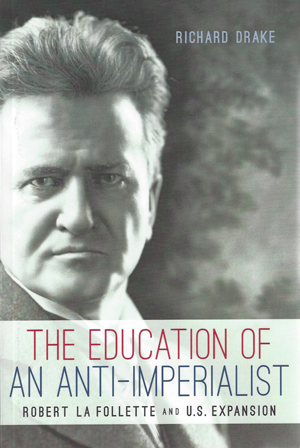 Robert M. La Follette (1855-1925), the Republican senator from Wisconsin, is best known as a key architect of American Progressivism and as a fiery advocate for liberal politics in the domestic sphere. But "Fighting Bob" did not immediately come to a Progressive stance on foreign affairs.
In The Education of an Anti-Imperialist, Richard Drake follows La Follette's growth as a critic of America's wars and the policies that led to them. He began his political career with conventional Republican views of the era on foreign policy, avidly supporting the Spanish-American and Philippine-American Wars. La Follette's critique of of Empire emergedin 1910, during the first year of the Mexican Revolution, as he began to perceive a Washington-Wall Street alliance in the United States' dealings with Mexico. LaFollette subsequently became Congress's foremost critic of Woodrow Wilson, fiercely opposing United States involvement in World War I. Denounced in the American press as the most dangerous man in the country, he became hated and vilified by many but beloved and admired by others.
La Follette believed that financial imperialism and its necessary instrument, militarism, caused modern wars. He contended they were twin evils that would have ruinous consequences for the United States and its citizens in the twentieth century and beyond.
"Richard Drake's superb biography of Robert La Follette is a fresh, fascinating, and highly readable account of a great figure in American history. But it is also an important, indeed stimulating, analysis that can instruct our era how this popular U.S. Progressive Senator from Wisconsin repeatedly and courageously stood up against his era's reactionary and avidly pro-war politicians." —Walter LaFeber, Cornell University
"This book addresses big themes: republic or empire, progressive politics, freedom and censorship in wartime, and congressional and executive foreign policymaking powers. A vivid portrait of Robert La Follette that shows why he was such a thorn in the side of those who sought to conduct 'business as usual.'" —Susan Brewer, author of Why America Fights
"There are other biographies of Robert La Follette, obviously, but none that probes so deeply into the intellectual development of an American anti-imperialist. This is a very important piece of scholarship that deserves a wide reading." —Lloyd Gardner, author of Three Kings: The Rise of an American Empire in the Middle East after World War II
"…offers a fresh perspective that often surprises with its insights…..a scholarly, readable, and sometimes highly opinionated account of the philosophical journey by La Follette toward an unshakeable belief in anti-imperialism and opposition to U.S. involvement in foreign wars….Even a seasoned historian who has made a focused study of La Follette will find much that is new here….serious research went into the preparation of this book, which is well documented…. Summing up: Highly recommended." — S. K. Hauser, Choice
"The title of this very fine study is peculiarly apt: its subject is political education….In The Education of an Anti-Imperialist, [Drake] describes La Follette's transformation from an unreflective supporter of U.S. policy into an ardent opponent of American imperialism. In effect, Drake traces the impact of critical ideas on one formidable politician's understanding of statecraft….the passage of time has not lessened the value of La Follette's prophetic warning that global leadership 'would make us the object of endless jealousy and hazards, involve us in perpetual war, and lead to the extinction of our domestic liberty.'" —Andrew Bacevich, The American Conservative
"Following close upon the revival of Theodore Roosevelt's reputation by best-selling author Doris Kearns Goodwin's The Bully Pulpit, another fresh and exciting volume brings us TR's nemesis within the Progressive Movement, Wisconsin's own Robert M. La Follette….They parted sharply on U.S. foreign policies, but in ways never clearly understood until The Education of an Anti-Imperialist….[The book] is an intense intellectual history of the most famous Wisconsin politician, how he grew and shifted his opinions dramatically." —Paul Buhle, Wisconsin State Journal